Everything You Need to Start Improving Eyesight in One Place!!!!

12 Digital Audio Guided Eye Exercises
12 Digital Video Guided Eye Exercises  (Includes subtitles)
5 Re-printable Eye Exercise Charts

60 Day Money Back Guarantee!

FREE Latest
Version Updates for  1 yr

INSTANT ACCESS NOW with our 100% DIGITAL DOWNLOAD product

Streamable and downloadable access

Exclusive access to our Natural Vision Improvement Facebook Group.
NO SHIPPING = LOW COST!!
"5 STARS!! This course is brilliant, exactly what I was looking for. The information is clearly set-out. The reasoning behind the exercises is clearly explained. I particularly enjoyed the videos showing and explaining the eye exercises. The presenters are clear and give every impression of enjoying what they are doing, which is good motivation for me. Having the recordings to download onto a portable device is so convenient. I'm looking forward to putting my suggested exercise programme into action. Great value for money!" David UK, 2019
Here's what other satisifed vision improvers  are saying about Eye Exercise Express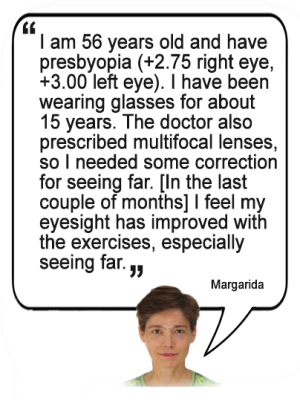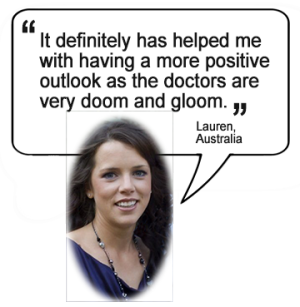 What Conditions Can the Eye Exercise Express Help?
The eye exercises in the Express can help many conditions, but the pre-written programs include:
Nearsightedness (Myopia)
Farsightedness (Hyperopia)
Astigmatism
Peripheral Vision Loss
Age Related Farsightedness (Presbyopia)Eye Strain
Cataracts
Macular Degeneration
Glaucoma
Double Vision (Strabismus/Crossed Eyes)
Lazy Eye (Amblyopia)
Retinitis Pigmentosa
Optic Atrophy
Rod Cone Dystrophy
Keratoconus
How It All Began. . .
We have spent over 20 years combined working on improving our own eyesight and have dedicated our lives to helping others improve their eyesight as well.
So we know, first hand, how it feels to want to improve your eyes and how frustrating blurry, distorted vision can be.
Luckily for us, we found eye exercises. Now it's time for you to reap the benefits of natural vision improvement too.
All those years of working on ourselves, working with clients and now listening to our global internet audience has shown us two things:
Eye exercises are effective for almost everybody
     and
It's often very difficult for people to do the eye exercises on a regular basis.
So it's wonderful that the eye exercises work, but if people can't seem to do them then we have a big problem to solve. After some time of discussing, surveying and observing we uncovered three major barriers to doing the eye exercises. They are:
Motivation, Time and Money

1. Motivation
Motivation is one of the most important and one of the most overlooked elements when it comes to improving eyesight. We know from working on ourselves and from coaching others that when we do the eye exercises we see better. Nearly everyone experiences this when doing eye exercises for the first time.
The real trick is to motivate yourself to keep doing the eye exercises so that those short term vision improvements can become long term vision improvements. This is why motivation is so important. Without it, why do the exercises?
Coaching people on a one-to-one basis, we would see amazing results when we led them step-by-step through the eye exercises.
However, when left to do the exercises by themselves in the following week, they would return with this same response:
"I really wanted to do the exercises, but I didn't. When I do the exercises, my eyes feel great and I see better, I don't know what happened!"
We realized that if our in-person clients were having this difficulty; then we could only imagine how difficult it must be for someone living on the other side of the world.
After some time wrestling with this difficulty, we came up with a solution. We created the Eye Exercise Express with a virtual vision coach on board.
When you first start doing eye exercises it really helps to have someone who is over your shoulder coaching you through the exercises as you do them. Knowing you will be guided step-by-step from beginning to end keeps you motivated throughout the exercise. You don't lose interest halfway through. Our virtual coach isn't quite over your shoulder, more like in your ear; but he does all this for you. He will keep you on track!
"Am I doing this right?"
Without someone there to guide you through the exercise it's very common for this question to come up and create enough doubt to stop your positive momentum. Our virtual coach who guides you through each phase of the exercise removes this doubt. You're left motivated to keep doing the exercises knowing that better eyesight is on its way.
This is why we spent so much time with the Express, designing and recording the exercises in a way that guides you step-by-step in real time through each exercise. You can then focus on your technique instead of wondering if you are doing it right or not. This makes your learning process a lot more efficient, and you will get the correct exercise technique right from the very beginning, saving valuable time.
"But how do the exercises actually help improve my vision!?"
Before you start thinking "they're reading my mind!" this is the second most common reason people were telling us that they lacked motivation.
It makes perfect sense.
Why do an exercise if you don't know why you're doing it?
This is why we spent months designing the exercises so that, while we are guiding you through each step of the exercise, we are also explaining:
How the exercise helps your eyes
Which part of the eye you are improving
Why strengthening or relaxing this particular part of the eye helps improve your eyesight
We've spent years studying the amazing intricacies of the eye and how it works so that we can explain how the eye exercises help improve your vision in an easy to understand manner without skipping important details.
This way, when your vision starts improving, you will actually know which part of the eye is helping you see better and why. We're confident that when you understand why the exercises help improve your eyesight; common sense will take over and motivate you to keep going.
Lack of motivation will be a thing of the past and better vision will be in your future.
sdf

asd
      "I wore glasses for presbyopia for 15 years of my life. . . I have not worn my reading glasses for several months now and I can read perfectly well in daylight."
Sophie, India
2. Time
We can't count the number of times we have had clients say,
"I really wanted to do the exercises, but i just didn't have time!"
This is very frustrating for a lot of people. They want to do the exercises so they will have better vision. However, their busy lives get in the way; it seems like they don't have the time.
N
o challenge Is too big! We set about discussing what is the minimum/maximum amount of time we could get clients to perform the exercises and still get great benefits. We had lengthy conversations with our clients and also surveyed our global audience.
We found that recording the exercises to exactly 10 minutes was a short enough time for people to fit the exercise into their busy lifestyles, but still long enough to see real benefits.
This way, instead of seeing your eye exercises as a burden in your life, one more thing on your to do list, they become part of your lifestyle. You slot the exercises in when that spare moment arises. You can let go of the frustration that the eye exercise are just too much work.
Instead, the exercises support you and your vision throughout the day, preventing further vision loss and making your eyesight better.
A great example of someone who is incorporating the eye exercises into her lifestyle and who is still training hard to become a doctor is Nena:
As much as we all wished we could spend less time on the computer so that we could give our tired, dry, strained eyes a rest, our busy modern day lives do not seem to be accommodate this. So we need to adapt to our new digital environment.
Taking regular 10 minute breaks from the computer to do an eye exercise can be the difference between better vision and a stronger glasses prescription or even chronic headaches. Our virtual vision coach is right at home on your computer too, ready to coach you through an exercise on your next break.
Dividing your program up into 10 minute spans and then spreading them throughout the day you reach your eye exercise program goals with minimal effort, and you still get to see maximum improvements along the way.

Just press play!
There's nothing worse than having 10 spare minutes to do an exercise, but then having to rummage around to find your eye exercise book or notes, look up how to perform the exercise, then try to follow the instructions and perform the exercise all at the same time. This is both time consuming and a quick way to lose motivation.
By having the exercises at the touch of a button you simply press play on your media device and you're doing the exercise as it is being explained to you. Even if you are a beginner there is no time wasted learning the exercises without actually doing it. This means you start getting the results from the very beginning instead of waiting until you have mastered the exercises.
We were also hearing from a lot of people that they wanted to find the time to do the exercises, but they just didn't have the time to do them at home. On the other hand, they were also reporting that they did have 10 or 20 minute breaks before, during or after work.
S
o having the eye exercises on your mp3 player, phone, tablet, computer or other media device gives you the freedom to do an exercise anytime and anywhere you have a spare moment. No matter where you are, whether you are on a bus or on a coffee break, you can use those valuable 10 minutes to improve your eyesight.
It's clear to see that when the eye exercises are this easy to perform and this time efficient we will also be a lot more motivated to do them!
3. Money
We understand that when economic times are tough your health unfortunately seems to be the first expense you cut back on and eye exercises are certainly no exception.
Time and time again we received emails
from people who really wanted to get going on an eye exercise program to start improving their eyesight. However, their financial restraints prevented them from booking private sessions with us. They ended up not doing the eye exercises.
This drove us to want to create something that was lower in cost that could still coach you through the exercises as you do them, just like in our private sessions. We also wanted to give you an eye exercise program tailored specifically to your condition, just like we would if we were coaching you here in San Francisco.
So we put both of those into the Eye Exercise Express, our virtual vision coach and a Quick Start Reference Guide where you can look up your condition to see what exercises are the best for you.
This is really the equivalent of seeing us for 3 or more private sessions, at $90 per private session that is quite a savings. Even if you only do the exercises once a week over 6 weeks you will have saved over $500 in private sessions not to mention travel expenses to San Francisco.
Of course, don't get us wrong. We would love to see you here in our beautiful city, but the Eye Exercise Express is an inexpensive ticket that will get you started on your vision improvement journey.
What does the Eye Exercise Express include?
The Quick Start Guide now includes:
11 essential eye exercises to help improve your eyesight
Audio and Video Tracks


Track 1 – Let's Get Going
Introduction to the Quick Start Guide
Explanation of the supporting materials and how to use them
Some essential tips so you get the best results
Track 2 – Palming
Brings deep relaxation to your eyes
Reduce eyestrain
Rejuvenates your whole visual system
Track 3 – Sunning
Reduces your light sensitivity
Strengthens your pupils to improve the sharpness of images
Activates the the cone cells in the retina to enhance detail and color
Track 4 – Distance Looking
Brings relaxation to your eyes by reducing the strain of looking close all the time
Maintains and encourages the flexible of your lens helping to prevent presbyopia and cataracts
Retrains the brain to bring clarity to distant objects
Track 5 – Astigmatism
Overcomes the warping of your cornea
Retrains the brain to create a single clear image
Strengthens and stretches your eye muscles
Track 6 – Shifting
Prevents disuse and degeneration of the macula
Activate your macula to increase sharpness and detail
Track 7 – Presbyopia Chart
Brings flexibility back to your lens allowing you to read easier
Increases strength and flexibility of the muscles in your eyes to see closer objects more clearly
Retrains the brain and its muscles to fuse a single sharp image
Track 8 – Near and Far
Encourages lens health and flexibility helping to prevent presbyopia and cataracts.
Strengthens the muscles that focus your eyes
Gives your eyes an all around work out.
Track 9 – Obstruction
Strengthens your weaker eye, increasing clarity
Brings balance to your visual system
Reduces eyestrain by resting your overworked stronger eye.

Track 10 – Peripheral Vision
Counteracts eyestrain caused by overuse of the central vision
Improves your night vision
Activates your peripheral vision
Track 11 – Self Massage
Increases blood flow to your eyes
Increases nutrient supply to your visual system
Encourages the delivery of more oxygen and better extraction of visual waste products
Track 12 – Eye Rotations
Stretches and strengthens the eye muscles responsible for tracking and fusing objects
Overcomes eyestrain caused by stiffness and weakness in your eye muscles
Here's an example of how effective these key eye exercises can be . . .
Wish you were here!
It would be great if we could teach you how to improve your eyesight here in the beautiful city of San Francisco. Unfortunately, we know this is not always a possibility. So if you cannot come to San Francisco then it will come to you! We have recorded sounds from two of our favourite places to do eye exercises to share with you:
Early Morning Golden Gate Park                                  Ocean Beach
kkkcccccccjh
We hope these special places give you the same enjoyment and motivation to do the eye exercises that we get.
Last but not least . . .
We have also included 5 easy to print PDF files of all the written material you will need so you can print as many copies as you like. This means you can take them with you and always have the equipment you need at hand. It also means you will never have to worry about losing any of the sheets.
Need a fresh chart? Simply print a new one!
PDF Files
PDF 1 – Quick Start Reference Table
Quickly find the eye exercises suited to your condition
PDF 2 – Presbyopia Chart
(WORTH $10)
All you need for the presbyopia eye exercise
Helps strengthen convergence muscles
PDF 3 – Large and Small Print
(WORTH $10)
All you need for the shifting eye exercise
Helps you keep track of your vision improvements from close
Assists you in the Astigmatism eye exercise
PDF 4 – 10 ft. Eye Chart
(WORTH $10)
Assists you in the shifting eye exercise
Helps keep track of your vision improvement progress from far
PDF 5 – Cutting Guide for 3 pieces of paper
Easy to follow guide for cutting out the 3 size pieces of paper for the peripheral vision and obstruction eye exercise.
The only additional equipment you will need is black paper which is used for obstructing your central vision and your dominant eye. We would have provided this for you too, but it would have been a waste of black ink from your printer!
Which conditions are covered in the Quick Start Reference Table?
These eye exercises can be allocated to help improve pretty much any condition. However, in the Quick Start Reference Table we cover these
12 commonly occurring conditions:
Nearsightedness (Myopia)
Farsightedness (hyperopia)
Astigmatism
Keratoconus
Age Related Farsightedness (Presbyopia)Cataracts
Macular Degeneration
Glaucoma
Double Vision (Strabismus/Crossed eyes)
Lazy Eye (Amblyopia)
Retinitis Pigmentosa
Optic Atrophy
Will this help my condition?
Most exercises can help most conditions. The technique and structure that we have developed in the Eye Exercise Express allows them to be adapted to any condition. Once you download the Eye Exercise Express use the BONUS Coaching Call that we you get with the Eye Exercise Express to find out the best exercises for you and your condition!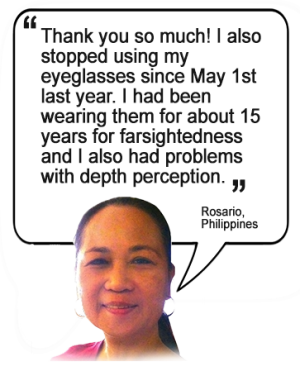 What's different about the new Eye Exercise Express?
After the original launch we were getting some great, positive feedback. Then we got some thought provoking emails from our hard-of-hearing audience. They also wanted to be able to use the product, but couldn't.
We are natural problem solvers and we wanted to make the Eye Exercise Express work for everyone. So we started to look at some new ideas: visual demonstrations and subtitles.
In researching these ideas further we discovered from many in our global audience that having visual demonstrations of the exercises would also be of great benefit particularly while they were first learning to perform the eye exercises.
Better still, because we reach a global audience where English is a second language, both visual demonstrations and subtitles would help bridge any language barrier, especially since we have to admit that Will's English is sometimes too English and Richards American is often not English enough!
We set out to rework the original Eye Exercise Express. We kept the original 10 minute audio tracks which describe how to perform the exercises in great detail, but we added videos and subtitles to them.
This way you can see exactly what it is we are describing and how to do it.
As much as we worked to eliminate any misunderstandings on how to perform the exercises in our original audios, without seeing a visual demonstration some parts of the eye exercises were still open to interpretation.Visually demonstrating exactly what it is we are describing in the audio leaves you with no doubt that you are performing the exercises correctly.
You know you're doing them right and ensuring maximum benefits.
This new research also led us to investigate in more depth individual learning styles. We spent time going through the three main learning styles of:
Auditory Learning – Hearing instructions and learning them.
Visual Learning – Seeing instructions carried out and learning them
Kinesthetic Learning – Performing the instructions yourself and learning them
Everyone seems to have a preferred learning style, but by combining the audio tracks with the videos and then having you perform the exercise at the same time, we have you covered no matter what your learning style is.
In fact, learning the eye exercises in all three ways, auditory, visual and kinesthetic is by far the best way for you to fully absorb and understand the eye exercises.
Could we offer more?
We're so confident that by doing the eye exercises on a regular basis and now having all your questions answered directly by us that, if you don't see any improvements in two months, then we will refund you money in full.
Not only will we fully refund your money, but as a gesture of hope that someday you will try the eye exercises again, we want you to keep the Eye Exercise Express and everything in it!

In the end, all you have to lose is the opportunity to improve your eyesightOnce you start performing the eye exercises on a regular basis your gradual awareness of vision improvement will be enough motivation to keep you going.
hgjhgjhfjhgjhgjhgjh

How exactly will this work for me?
On the computer at home:
If you spend multiple hours at home on your computer then set a timer to remind yourself to take regular breaks. When the timer goes off simply press play on a desired eye exercise. Each exercise is timed to fit perfectly into a 10 minute computer break.
At the office:
If you are someone who spends their day in an office you can make the most of those 10 minute coffee breaks. Press play and

perform an eye exercise, take that time to rest and rejuvenate your eyes.
On the go:
What if you are always on the go? By taking the eye exercises with you, you can do an exercise whenever an opportunity presents itself, whether you're waiting for bus or having your morning coffee. When you have your eye exercises with you, you are always ready to improve your eyesight.
This allows the eye exercises to fit to your lifestyle and not the other way around!
How long will it take to improve my eyesight?
We would love to give you the sales pitch of "get 20/20 vision in 2 weeks" but we're here to help you improve your eyesight not sell gimmicks. Everyone's vision is unique to them, their lifestyles and their visual condition.
In most cases when people do the eye exercises on a regular basis, they see and feel improvements in their vision in a relatively short space of time. However, everybody means something different when they ask this question. Some mean, less blur, whereas others mean crystal clear vision. You can imagine the answer varies in each case.
It is our hope that people learn to use their own observations instead of relying on an eye chart to tell them if they have improved or not. However, for simpler eye conditions, like getting rid of glasses, there can be some generic guidelines.
Those who are nearsighted can expect to improve a line on the eye chart or drop -0.5 diopters in their prescription every 6 months.
Those with presbyopia who follow the eye exercises can also be looking at reducing +0.5 diopters every 6 months.
For those with more challenging pathologies we suggest you set moderate goals such as increased awareness in the periphery. This way you can still track and see your improvements.
Can I download the Eye Exercise Express directly to my smartphone or tablet?
Yes you can, but you will need a third party app to unzip the files. Many users find it simpler to download to their computers first and then load the digital files onto their phone or tablet.
I don't own a smartphone or tablet. Can I still use the Eye Exercise Express?
Yes, you can simply use your PC or laptop. Both of these have the capability to play both digital video and audio files.
Ready to Start Improving Your Eyesight?
What better example that natural vision improvement works than yourself? However, if you really want some other examples, here are a couple more people who have contacted us saying how the eye exercises have helped them:
Ready to Start Improving Your Eyesight?